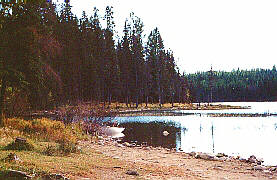 Resorts & Campsites: No resorts on Stake , however, resorts are found on nearby Lac le Jeune and Walloper lake. On Stake there is a recreation site with day use facilities, hiking trails and boat launching.

BC Adventure Network members serving this area:


If you would like to have your business listed, please Click Here.

Fishing Report: A very popular lake, Stake is rainbow stocked and is considered a very good fly fishing lake with a good sedge hatch. These rainbows go to 2 lbs. with some larger ones. Due to it's high elevation, Stake fishes well throughout the hot summer months. Trolling and spinning gear are very popular while fly fishers concentrate most of their efforts on the west side closest to the highway.
Be sure to visit Fishbc.com for angling information!

Viewscape: Stake lake appears to occupy the basin left by a block of dead ice left in a glacial out wash channel during the later phases of deglaciation. It is on the Nicola Plateau, part of the Interior Plateau physiographic region. Lying amidst gentle rolling hills covered mainly with engelmann spruce, douglas fir and lodgepole pine. Small patches of trembling aspen are found throughout the area and willows, waterbirch, sedges and bulrushes occupy areas close to the lake.

Shoreline: There is a broad littoral shelf around the entire lake margin, with only the small exception of the extreme southeast shoreline. All the bays have a gentle drop-off but the points and part of the west and east shore were moderately steep past the littoral shelf. Most of the shoreline is eroded till but there is some organic shoreline near the outlet and there are some man-made beach areas off the northern boat launches. Access to the shoreline from land is fairly good because of a trail built around the lake. Canoe or small boat accesses lead off this trail in the southeast part of the lake. West and northwest shoreline is fairly steep. Patches of bulrushes and windfalls occur along many areas of shoreline.

Nearby Lakes
See McConnell Lake, Jacko Lake, Walloper Lake and Lac le Jeune.
Note: Always check your current BC Fishing regulations before you start fishing a new lake.