Kamloops
British Columbia
Part of the BC Adventure Network. Over a million web site visitors annually !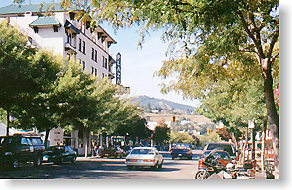 Downtown Kamloops Photo: Alan Forseth
Kamloops, BC
The popular interior city of Kamloops is in the heart of Thompson Nicola region.
Visitors to the "Tournament Capitol of Canada" can choose to learn more about the intriguing history of the area or take advantage of the abundance of recreational facilities and opportunities for outdoor adventures in the Kamloops area.
---
The Kamloops area is famous for rainbow trout fishing, and a variety of modern and rustic fishing resorts offer an unforgettable fishing experience. Guest ranches make great family vacations, introducing the guest to a taste of the real west on working cattle ranches.
The city itself is located where the South and North Thompson Rivers meet, hence the name "Kahm-o-loops", the Shuswap Indian word for "meeting of the waters". The surrounding countryside is a combination of dry forests, grasslands and desert like hills. While forestry has now surpassed ranching as the primary industry, ranching is still an important component in the makeup of the area.
Kamloops can be used as a headquarters for exploring nearby wilderness areas such as Wells Gray Park to the north and the grasslands of the Nicola Valley in the south or the numerous fishing and recreational lakes surrounding the entire area.

Accommodation/Adventure Providers
| | |
| --- | --- |
| | Alpine Wilderness Retreat: Retreat from the bustle of the city to our fly-in resort on Elbow Lake! Our snow fed lakes in the North Thompson are home to world-famous Kamloops Trout, and our resort has everything youíll need. Thereís lots of wildlife too so donít forget to bring your ca... more |
| | |
| --- | --- |
| | Campbell Hills Guest Ranch: A small personal guest ranch in the picturesque ranching country 25 min. from Kamloops. Max. 16 guests. High quality food, western hospitality, romantic lodging, privacy & customized programs! Max 5 riders per 2 wranglers on trail rides. more |
| | |
| --- | --- |
| | Pacific Coastal Airlines: Enjoy scheduled service from Vancouver's South Terminal to Anahim Lake, Bella Bella, Bella Coola, Campbell River, Comox, Cranbrook, Kamloops, Klemtu, Masset, Port Hardy (float & amphibious aircraft to coastal communities), Powell River, Trail, Victoria, & Will... more |
| | |
| --- | --- |
| | Rocky Mountain Holidays: Rail Vacations in the Rocky Mountains & Western Canada! Rocky Mountain Holidays customize vacations that combine the romance of train travel with the magnificent scenery of Western Canada. more |
| | |
| --- | --- |
| | The Rustic Resort: Fishing as good as it gets! Our resort just north of Kamloops has over 30 lakes joined by streams, naturally reproducing with wild Kamloops trout, perfect for flyfishing and float tubing. Enjoy hiking trails into lakes, mountain biking, the wildlife or just t... more |
If you would like to have your business listed, please
Click Here.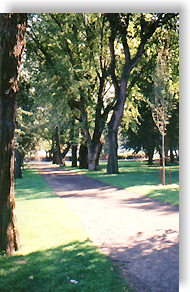 Riverside Park
Photo courtesy of Alan Forseth
Access: Access to the city is extremely convenient as it is at the junction of three main highways and two railroads.
From Vancouver, Highway 1 follows the historic and breathtakingly beautiful Fraser Canyon, while the newest, shorter route is the Coquihalla Highway which takes you through awe inspiring mountain passes (about 3 1/2 hours from Vancouver/ 5 1/2 hours from Seattle).
From Calgary in the east, it is about 7 1/2 hours on Highway 1.
From the southeast, the scenic route from the Okanagan is another popular way to reach this destination (from Kelowna two hours).
Along with a train and bus station, Kamloops also has an airport that can bring people from all over the province.
Population: 82,000.
Elevation: 377 meters (1,131 ft.)
Climate: Moderate with hot summers.
Accommodations: As well as numerous hotels and motels the Kamloops Old Courthouse Hostel is also available to travellers. Campsites, fishing resorts, lodges and guest ranches are in abundance to the west, east, south and north; these include a number of Provincial Park campsites within an hours drive. Guest ranches are a popular destination for many visitors, as is the ski resort to the north.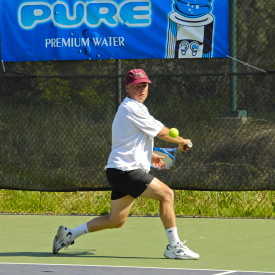 Photo courtesy of Victor Hamm
and Kamloops Tennis Association
Recreation Facilities & Activities: golfing; cross country and downhill skiing; waterside park; Canada Games Pool; curling rinks; SportMart Place (home of the Memorial Cup Champion Kamloops Blazers); horseback riding; swimming; tennis; fishing; biking; hiking; boating.
Local Attractions: numerous golf courses; Secwepemc Native Museum and Heritage Park; Art Gallery; Kamloops Heritage Railway, Kamloops Wildlife Park; Kamloops Museum & Archives; Western Canada Theatre Company; Kamloops Symphony Orchestra; Kamloops Art Gallery; Heritage Walking Tours, Horse Racing at Sagebrush Downs.
Events:
February - Performing Arts Festival
March - Cowboy Festival, Kamloops International Bantam Ice Hockey Tournament, Performing Arts Festival
April - October: Farmers Market (Wed & Sat)
June - Annual Garden Tour, High School Rodeo Finals
July - Cattle Drive, River Family Festival, Alpine Blossom Festival (Sun Peaks), Music in the Park
August - Alpine Blossom Festival (Sun Peaks), Music in the Park, Kamloops Pow Wow, Pro Rodeo
September - 4H Provincial Winter Fair
November - Santa Claus Parade
December - Wildlights Display
---
For Information:
Kamloops Visitor Information Center
Phone: (250) 374-3377
Fax: (250) 828-9500
Toll Free: 1-800-662-1994
Thompson Okanagan Tourism
2280-D Leckie Road, Kelowna, BC V1X 6G6
Phone: (250) 860-5999, Fax: (250) 860-9993