Saltwater Fly Fishing Series
"Vancouver Island's West Coast Salmon Fly Fishing"
with Barry M. Thornton
---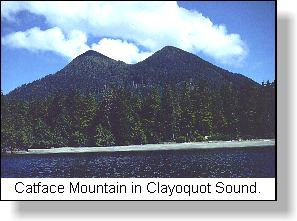 There is a wild enchantment about the west coast that embraces the visiting angler. When a raging southeast storm builds meter high waves that crash on rocky islands; when ferocious white water foam splashes house high; when salmon strike during drenching downpours; then, there is a true raw attraction to this special side of our island. This was the fascination, our engrossment in this rare location during most of our five day trip to Tofino late in June. No, fishers are not addled, only those who have experienced raw nature can truly understand the adrenaline rush that such conditions provoke.
I was staying at Weigh West Marine Resort along with friends from the North Okanagan. Dick Close, the owner, has pioneered a salmon fly fishing fleet from his resort which has opened a totally new sports fishing opportunity in Clayoquot Sound and the Pacific Rim. Our long planned trip was aimed at this salmon fly fishing and, while the weather provided an additional exciting challenge, it did not stop us from venturing into those protected waters of Clayoquot Sound north of Tofino. Daily we boated over the shallow intertidal bays and inlets in this vast region visiting various islands and shoals looking for feeding coho. They were there, not in great numbers at this early migration date, but, sufficient to appease our needs. What was special about these salmon was the locations where we found them and the equipment we were using.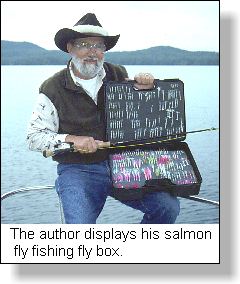 We were fly fishing for these saltwater sports salmon, using traditional casting methods brought to the coast from our Interior upbringing. We were pleased yet frustrated when we found that they would actively attack a 'bucktailed' surface fly but, only on occasion, take a cast fly. However, bucktailing allowed us to find those particular patterns which these coho preferred and gave us the confidence to persist when nearby jumpers tantalized.
We found two distinct schools of coho in the waters in front of Catface Mountain. The first were smaller fish about, 42 cm in length, and were like peas in a pod when placed side by side. This particular school we found in the shallow bays ( 3 to 6 meters) and rocky outcrops on the south face of the Catface Range. It was exciting fishing for often in the clear water we watched 'followers', curious coho, noses almost stuffed in the tail of our flies, come right to the boat.
The second school of coho hunted the shallows ( 6 to 10 meter) of Coomes Bank, immediately south of the Catface Range. These were larger coho and they were obviously targeting the young herring and needlefish that frequent this very fishy sports fishing location. We tried various cast flies in these waters but found it difficult to retain position with our anchor on the sandy flat. However, we did manage an exciting double as the last fish of our trip using bright attractor flies.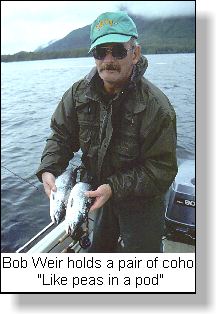 Coomes Bank is the ideal bucktailing location and seemed to have coho activity on both the flooding and ebbing tides. We would simply troll our flies about 15 meters behind the boat using our fast sink fly lines. We varied the speed and direction in an irregular manner and this seemed to excite the salmon to strike. It is the 'all day-every summer day' coho water. It lies about twenty minutes north of Tofino in Calmus Passage. This is usually protected water which has large Vargas Island to protect it from southeastern storms and, an outer coast network of smaller islands to break up the heavy open Pacific swells.
On this trip we were unable to reach the open waters and many islets of the Pacific rim but we explored many of the protected waters around Meares Island. In Cypress Bay we motored into the estuary of a smaller river. Anchoring in the shallows we cast for searun cutthroat trout and boated and released what can best be called 'footballs', those chunky, deep bellied, golden hued trout.
In the Tsapee Narrows between Vancouver Island and Meares Island, another area usually productive for coho in the summer, we found schools of black bass (rockfish) that could not resist our flies. It was often a case of a fish on every cast until we stopped to rest and revel in the scenery.
The west coast offers a rich open ocean salmon fly fishery extending from May through October. On this trip we were fishing during late June, and it was still early for the main schools of coho to frequent this area as they migrate along the outer west coast. In previous years I have experienced the swells of the open Pacific when we were able to anchor near many of the smaller islands on the outer Pacific rim. Here we fished in September for those hook-nosed northern coho that were feeding on the prolific needlefish schools in the area. It was exciting to have salmon chase the baitfish to the surface while we remained anchored in enchanting locations near kelp beds. The skills of hunting, anchoring, structure fishing, and retrieving appear to be the same anywhere on the open ocean and during all seasons. Fly fishing for salmon is now a flourishing fly angling sport. Add the elements of the open Pacific ocean in a true wilderness setting and you have a fly fishery second to none.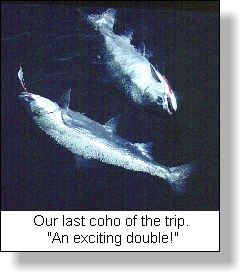 To fish these waters be certain you have marine chart, "CLAYOQUOT SOUND, Tofino Inlet to/a Miller Channel"; chart # 3673. These are shallow waters and require care when you are travelling. This was my boat's first trip and I would often follow the wake of whale watching boats, aluminum water taxis, and other sports boats while making reference to my chart. While we were usually alone where we fished there was almost always another vessel in view.
For further information about salmon fly fishing contact:
Weigh West Resort, Tofino, BC
© Copyright Barry M. Thornton