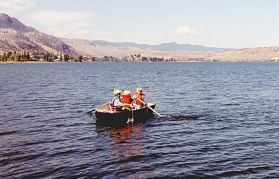 Resorts & Campsites: Located on Kamloops Lake is a private country inn with first class accommodations and a beach front, a provincial park for camping and a lakeshore park with a boat launch and wharf.

BC Adventure Network members serving this area:


If you would like to have your business listed, please Click Here.

Fishing Report: This river fed lake (Thompson River) features good fishing, if you know where to go. Check with the locals, they will steer you in the right direction.
Be sure to visit Fishbc.com for angling information!

Check at Lakeside Country Inn for the best places to fish for trout. They provide dependable boats and fishing gear for rent. Or try your hand at canoeing. Kamloops Lake and area is not crowded with many exciting places to explore.

Description: Kamloops Lake is a beautiful lake that is just waiting to be discovered. The North Thompson and South Thompson Rivers flow into Kamloops Lake which is 1.6 km (1 mi.) wide and 29 km (18 mi.) long. In spots the lake is as deep as 152 meters (500 ft.). Because Kamloops Lake is river fed, the water level goes up and down with the snow melt in the mountains. Early June is high water and by early fall there is a lot of rocky shore.

During the hot summer months the water temperature over the shelf warms up enough for swimming. Go boating and explore the shoreline. Discover interesting driftwood, coloured rock formations, abandoned shacks, and mine workings and keekwillie holes. From the lake you can easily view the "Balanced Rock", the stone masonry railway bridges and railway tunnels. You might even spot some Rocky Mountain Bighorn sheep roaming the northern hillside.

Nearby Lakes
Tunkwa Lake - Chosen as one of the lakes that hosted the 1993 world fly fishing championship , Tunkwa is simply a great fishing lake. Tunkwa is situated on the Thompson Plateau amongst rolling hills of thick pine stands and open meadows.
Note: Always check your current BC Fishing regulations before you start fishing a new lake.