www.bcadventure.com
Pelly Lake
Click on the moose on the left for complete BC travel information.
Location: Approximately 400km (250mi) north of Prince George and approximately 225km (140mi) north of Mackenzie. The map coordinates are north 56 degrees 51' 30" and west 125 degrees 25' 00". Pelly Lake is a fly-in only area.
Surface Area
6,734,000 sq./m.
Angler Usage
Low
Mean Depth
16.3 m. (52 ft.)
Elevation
779 metres(2500 ft)
Max. Depth
25 m. (146 ft.)
Ice Over
November to mid May
Game Fish
Rainbow, Dolly Varden, Char, Bull Trout, Lake White Fish, Mountain White Fish.
T.D.S.
156 mg/l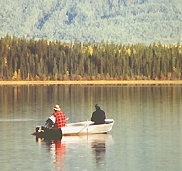 Photo Courtesy of Carlo Parisotto, Pelly Lake Lodge
Resorts & Campsites: Pelly Lake is a fly-in only lake.
Fishing: Pelly Lake has a natural abundance of rainbow trout, Dolly Varden, bull trout, and whitefish. Dolly Varden in early spring can weigh up to 13-pounds.
Fly-casting for rainbow trout can result in catching 6-pounders. Pelly Lake is approximately five miles long and fed by many mountain streams and by the chain of small lakes draining from the eastern entrance of Barrier Pass. The water is clear and cold, making the fish very active fighters. There are other interesting lakes in the surrounding area.

Be sure to visit Fishbc.com for angling information!
---
Promote your business on the BC Adventure Network.
BC's largest and most visited tourism Web site . . . more info.
Advertising Inquiries:
advertising@ibcnetwork.com
© 1995 - 2018 Interactive Broadcasting Corporation