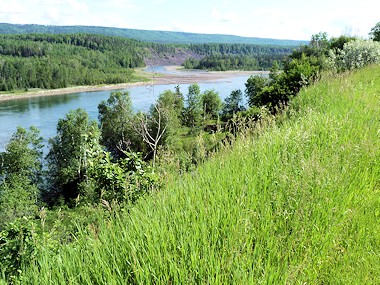 The Scenic Peace River at Hudson's Hope. Photo: Alan Forseth
Hudson's Hope
British Columbia
Land of Dinosaurs & Dams
Hudson's Hope is situated midway between Chetwynd and Ft. St. John along Highway 29. This route that follows the Peace River, is the most scenic in the area. Bald eagles and wildlife are in abundance and can be viewed and photographed in any season. The open river brings winter hoarfrost to cover the trees and bushes adding an extra sparkle to the winter landscape. One unique feature in the area is Williston Lake, one of the largest man made lakes, created during the building of the W.A.C. Bennet Dam.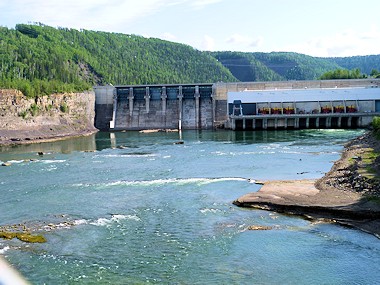 Power Dam at Hudson's Hope. Photo: Alan Forseth

When the dams were being built in the area, a lot of dinosaur fossils were unearthed. The Hudson's Hope Museum contains one of the finest dinosaur fossil and footprint collections in the Peace River area as well as displaying many local artifacts from the early trapping, fur trading and coal mining industries. Each summer the museum hosts an exhbition covering a segment of our history.




Accommodation/Adventure Providers




If you would like to have your business listed, please Click Here.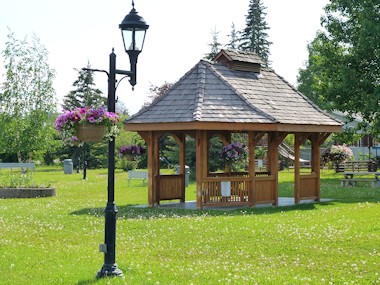 Park at Hudson's Hope. Photo: Alan Forseth
Access: Hudson's Hope is 64 km (40 mi.) north of Chetwynd on Highway 29 and 90 km (56 mi.) west of Fort St. John on Highway 29. There is also a community airport to serve the area.
Recreation Facilities: heated pool, rodeo grounds, tennis courts, boat launch, Rod & Gun Club, camping, fishing, boating, sightseeing, hiking, swimming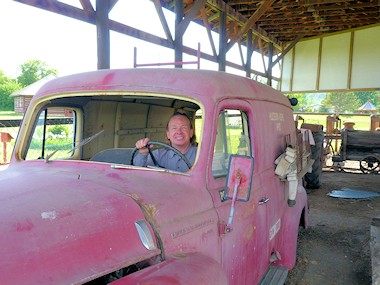 Hudson's Hope VFD Fire Truck at the Museum. Photo: Alan Forseth
Local Attractions: W.A.C.. Bennett & Peace Canyon Dams, Museum, St. Peter's Church, Beattie & Gething Parks, Dinosaur Lake, Alwin Holland Park, Williston Lake, Peace River
Community Events during spring summer and fall:
March - Curling Bonspiel
May - Mother's Day lobster dinner and dance
June - Father's Day fishing derby, BC Hydro annual ball tournament
July - Canada Day Celebrations
August - Fall Fair
September - BC Rivers Day
Accommodations: Sportsman Inn, Sigma Inn & Suites, Williston Lake Resort New Hotel opening very soon
Camping: Four municipal campgrounds – King Gething, Alwin Holland, Dinosaur Lake and Cameron Lake.
Private Campgrounds: Lynx Creek RV Park and Campground, Dupont RV Park, Williston Lake RV (Williston Lake Resort)