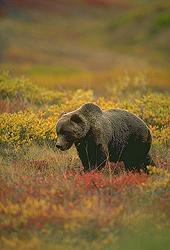 The 44,300 hectare Khutzeymateen K'tzim-a-deen Grizzly Bear Sanctuary was the first area within British Columbia, Canada, established to protect the grizzly bear and its habitat. The areas primary purpose is to preserve the natural habitat of these animals so human activity within the area is not encouraged, although controlled viewing is permitted.
The massive peaks, old growth forests, and natural wetlands and estuary give the area a truly untouched feeling.
The sanctuary is also the forest home to species including black bear, mountain goat, marten, wolverine, wolf, porcupine, river otter, beaver and the harbour seal. The Khutzeymateen and Kateen Rivers are home to migration runs of chinook, coho and chum salmon.
---
LOCATION

The Khutzeymateen K'tzim-a-deen Grizzly Bear Sanctuary is located 45 km northeast of Prince Rupert in the Western Kitimat Range of the Coast Mountains.

PARK FACILITIES & ACTIVITIES

Information - A floating ranger/guardian station is found near the estuary where all visitors must register upon arrival. Information is available here on the significance and natural history of the area.

Viewpoints - Vantage points of the estuary and shoreline is permitted from the inlet. Only authorized groups guided by commercial guides or a park ranger are permitted on the estuary for viewing purposes.

Anchorage - Overnight anchorage is permitted in the inlet. The visitor should be aware of drastic tidal fluctuations.
If you would like to have your business listed, please Click Here.
---


British Columbia Adventure Network © 1995 - 2022 Interactive Broadcasting Corporation