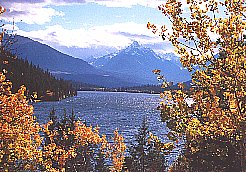 Resorts & Campsites: No resorts but Horn has the largest and most developed BCFS campsite in the Chilcotin, with 14 gravelled sites at lakeside, boat launch and parking area.

BC Adventure Network members serving this area:


If you would like to have your business listed, please Click Here.

Fishing Report: 3 lb. rainbows are caught on the fly, trolling or by using spinning gear. Horn is a very popular lake which produces consistantly right through the season. Other excellent fishing lakes are close by.
Be sure to visit Fishbc.com for angling information!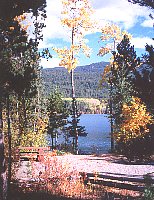 Viewscape: Mountainous and heavily forested with Lodgepole pine and Douglas fir.
Shoreline: Rocky shoreline with low overhanging alder and poplar, many dead snags are found along the shore.
---
Nearby Lakes
Sapeye Lake Sapeye Lake, located almost immediately across the road from Horn has a BCFS campsite on it's north end. Caution: the road is not suitable for trailers, as there is no turn around. An excellent fly-only lake with wild stock rainbows averaging 3 lbs. (with many going much larger). Bull trout up to 6 lbs. are not unusual. A very pretty lake with mountian views.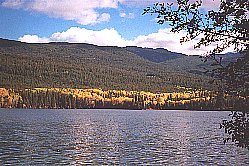 Bluff Lake Bluff Lake, just a couple of kms. south of Sapeye, is another great lake. With Bull trout to 10 lbs. and rainbows in the 2 to 3 lb. range, Bluff is a consistent producer. There is a small day-use BCFS recreation site which offers an outstanding mountain viewscape besides the great fishing in the area.
Note: Always check your current BC Fishing regulations before you start fishing a new lake.