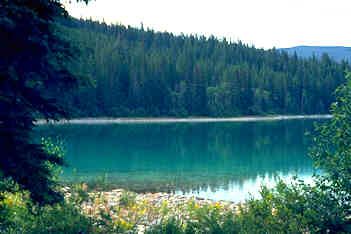 Resorts & Campsites: None.

BC Adventure Network members serving this area:


If you would like to have your business listed, please Click Here.

Fishing Report: Fishem produces small wild stock rainbow and bull trout. Nearby Taseko River can be excellent fly fishing waters for rainbows and bull trout.
Be sure to visit Fishbc.com for angling information!

Viewscape: Fishem is situated in a broad valley. Nearby Yohetta Valley is considered by many to be the prettiest in the Chilcotin.

Shoreline: A kame terrace is found on the east side while moraine, kame terrace and alluvial fan make up the shoreline on the west side of the lake. The north end has a shore with a beach berm raised by wave action. A spruce forest with sedge meadows and occassional lodgepole pine are found on the west side. The east side of the lake is mixed lodgepole pine, spruce with grassy areas and some aspen away from the water. Alder is found at the lakeshore.

Nearby Lakes
Taseko, Tuzcha and Yohetta - Taseko, Tuzcha and Yohetta are not known for great fishing, however they are well worth exploring for their scenic beauty.
Note: Always check your current BC Fishing regulations before you start fishing a new lake.