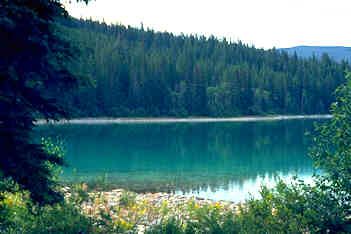 Resorts & Campsites: All facilities and services can be found at the nearby community of Tatla Lake. Eagle Lake has an open meadow BCFS campsite where cartop boats can be launched.

BC Adventure Network members serving this area:


If you would like to have your business listed, please Click Here.

Fishing Report: 2 lb. rainbows seem to be common with the odd fish going up to 8 lbs. Trolling is the most popular method of fishing on Eagle Lake. Fishing is good from the beginning of June through the summer months (unless the weather gets too hot) and on into the fall.
Be sure to visit Fishbc.com for angling information!

Viewscape: Situated among rolling hills which are heavily forested with Lodgepole pine. 20 to 30 miles west of Eagle Lake, the Coast Mountains begin.

Shoreline: Gravel and rocky beaches dotted with heavy dense alder bush.

Nearby Lakes
Cochin Lake - Cochin Lake, located just south of Eagle on the Tatlayoko Lake Road. Branch east onto the Chilko Lake access road for about 1 1/2 km. (1 mi.) and then turn north (left) and travel about 1 km (1/2 mi.) to a BCFS campsite on the lake. Wild rainbows that average in the 3 to 4 lb. range are usually caught with trolling gear (especially with Hot Shots and flat fish), but are equally attracted to flies. 10 pounders are not all that uncommon, making Cochin a lake well worth visiting.
Note: Always check your current BC Fishing regulations before you start fishing a new lake.