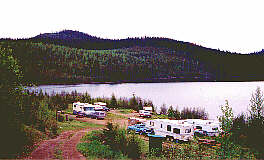 Resorts & Campsites: Forest Service Recreation Site only. Unserviced campsites for 15 RV's. Rough boat launch and ample day use parking. Outhouses. No private resorts or campgrounds. No beach, dock or picnic tables.

BC Adventure Network members serving this area:


If you would like to have your business listed, please Click Here.

Fishing Report: Good to excellent rainbow fishing. This previously barren lake has been hatchery stocked and will produce rainbows to 5 plus pounds, with 2 pounds being the average. Spectacular shoals off the campsite area make for tremendous mayfly hatches.
Be sure to visit Fishbc.com for angling information!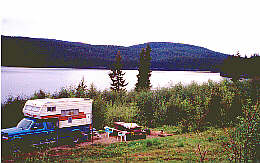 Viewscape: Very scenic lake located on a mountain top. Surrounded by forested hills. Large island (600m x 200m) located in the center of the lake. Logging is visible from the lake and the campsite is located on a former logging landing.
Shoreline: A medium size (3km x 1km) lake, surrounded by spruce, pine, fir and some aspen. A clear lake appearing light to dark green in color. Weeds are present at the edge and in shallow spots, being reed, grass, and bottom cover type.
Nearby Lakes
Note: Always check your current BC Fishing regulations before you start fishing a new lake.