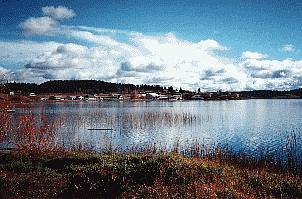 Resorts & Campsites:

Full facilities in the village of Lac La Hache, with a number of public and private campsites and picnic sites, plus access for boat launching along the lake. Swimming, camping, horse back riding as well as boating and fishing are all popular activities for lake visitors who come to this outdoor recreation destination.

BC Adventure Network members serving this area:


If you would like to have your business listed, please Click Here.

Lac La Hache Provincial Park is set in the shelter of a Douglas-fir forest on Highway 97, 13 km north of the community of Lac La Hache. Offering 83 campsites, flush toilets, tap water, a sani-station and a self-guided nature trail, Lac La Hache Park is a popular campground. Campsite reservations are accepted and first-come, first-served sites are also available.

A day use area is located across Highway 97 on the shore of Lac La Hache and has an adventure playground, picnic tables, picnic shelter, boat launch, developed beach, changehouse and flush toilets.

Fishing Report: Lac La Hache is known for it's kokanee fishing, although rainbow and lake trout are often sought after. There are reports of lake trout up to 30 pounds with the rainbow and kokanee averaging from a pound to a pound and a half; rainbow sometimes going heavier. The lake trout are primarily taken with deep trolling while spinning lures seem to be the most popular for the kokanee and rainbow. Ice fishing is a favourite winter pastime on this lake.


Viewscape: Gently rolling hills covered with forest and grassland are observed along the lake. Private and summer dwellings are much in evidence along the eastern shore while the western shore remains more forested. A number of small forested islands dot the lake.

Shoreline: Gravelly shoreline interspersed with grasses, willow and small shrubs and rushes with alders and poplars in evidence.

Note: Always check your current BC Fishing regulations before you start fishing a new lake.

Be sure to visit Fishbc.com for angling information!