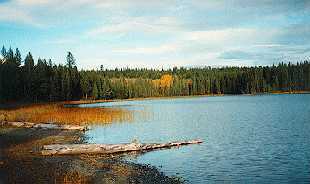 Resorts & Campsites: Forest Lake has a small open BC Forest Service Recreation Site with campsites. RV accessible.

BC Adventure Network members serving this area:


If you would like to have your business listed, please Click Here.

Fishing Report: Excellent flyfishing for rainbow trout in Forest Lake. With large quantities of aquatic invertebrates (Dragonflies, Damselflies, Mayflies, Waterboatmen, Scuds and Leeches) in their diet, these Forest Lake 'bows grow to huge sizes. Considered a trophy lake by many, these BC rainbow trout will attain weights of 20 lbs or better. Most fish are in the 4 - 8 lb. range.

Catch and release fishing is strongly encouraged on Forest Lake, as during the warm days of summer, the rainbow trout take on a 'muddy' taste.

Regulations protect Forest Lake as a flyfishing with artifical flies only lake. Other special regulations including daily catch quotas, motor restrictions and a winter lake closure may be in effect. Check the regulations for specific details.

Be sure to visit Fishbc.com for angling information!

Viewscape: Both rolling hills and flat land surround the lake. A large cleared area is present on the northern shore. The southern shore has been cleared for an old homestead. Farther east along the southern shore, an old burn has been repopulated by young Lodgepole Pine. The dominant tree species is Douglas Fir with Spruce and patches of Aspen also present.

Shoreline: 60% of the Forest Lake shoreline supports extensive beds of bullrushes. The largest beds occur on the southern shore, toward the eastern end. In contrast, the northern shore drops off steeply with very little weed growth. A significant shoal extends out from the northern shore at the eastern end. It supports extensive waterlily beds and some log debris. The substrate along most shores is dominated by fine material with occasional boulders.

Nearby Lakes
Blue Lake - Blue Lake is a small lake of about 34 ha. (84 acres). Rainbows average 1lb., with 5 lbs not uncommon. Kokanee are also found in good numbers. Spinners and flies do well. A beautiful lake for canoeing and rowing. Electric motors only. Blue Lake is 34 km (21 mi) north of Williams Lake.

McLeese Lake - McLeese Lake, situated 43 km (27mi) north of Williams Lake on Hwy 97, is a popular fishing, swimming and skiing lake. It produces both rainbows and kokanee. Trolling is the most popular method. Many services are available in the small community of McLeese Lake.

Tyee Lake - Tyee Lake is situated about 21 km (13 mi) east of McLeese Lake off Hwy 97. A good producer of both kokanee and rainbow, with spinning and trolling the most popular method. All of these lakes offer camping and boat launching.
Note: Always check your current BC Fishing regulations before you start fishing a new lake.