Boating the Large Lakes of British Columbia's Cariboo Chilcotin
---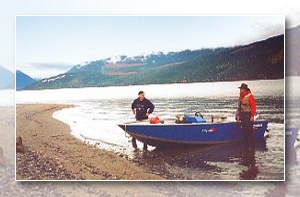 Quesnel Lake, is one of British Columbia's deepest lakes, in fact, it is the world's deepest known fiord lake. A fiord lake, is a lake that a glacier cutting deep into a valley bottom created, making them narrow and very deep. Quesnel Lake, is no exception. It is 530 metres (1739 feet) deep, narrow and backed by mountains. Some peaks in the Cariboo Mountain reach heights of 2,400 metres (8,000 feet) and add a majestic look to the region.
Quesnel Lake, in the shape of a wishbone with its arms and many bays provides 800 km (500 mi.) of shoreline for boaters, canoers and kayakers to explore. Hundreds head to Quesnel Lake to try their luck at landing that big one. The lake is famous for its trophy sized native rainbow, lake trout, Dolly Varden and kokanee.
The north arm of the lake features many bays and islands that have campsites, sandy beaches and moorage. Canada Geese, ospreys and eagles are plentiful on this portion of the lake. Terrain along the east arm is much different. The shoreline is steep and rocky with few protected moorage spots. Mountain goats love this area and are often seen on the side of the cliffs.
Wildlife photographic opportunities are everywhere. Roaming this region are grizzly and black bears, moose, wolves, mountain goats and mountain caribou. Much of this pristine wilderness area has remained untouched by civilization. Boating and fishing this large Cariboo lake is an experience that will be remembered. Other recreational activities are hiking, swimming, canoeing, gold panning or just exploring. The area is filled with history that dates to the gold rush days.
Likely and Horsefly, are two communities, near Quesnel Lake catering to visitors needs and wants. Likely is 93 km (58 mi.) east of Williams Lake and Horsefly is approximately 70 km. (48 mi.) away. A paved road from 150 Mile House on Highway 97 leads to Likely at the western end of Quesnel Lake and privately owned full facility campgrounds. Or take the Horsefly turn off, past Horsefly Lake to the east section of Quesnel Lake, where there are private campgrounds and facilities.
For exciting and interesting pleasure boating and exploring, Quesnel Lake in the Cariboo Chilcotin, truly fills the bill. Because this lake is narrow and deep it is prone to unpredictable weather, winds can be sudden and the lake can become treacherous for boaters. Staying as close to shore as possible is best. Be safe, have fun!
Elysia Resort - Our full service getaway destination on Quesnel Lake offers fishing for Rainbow Trout, romantic getaways, great dining, and vacation packages in lakeview rental cabins & guest rooms. You'll be warmly greeted at our small, friendly and secluded piece of paradise.
---
The largest natural, high elevation, freshwater lake in North America is found in our own backyard in the Cariboo Chilcotin region of British Columbia. It is Chilko Lake, with turquoise blue waters and spectacular mountains, making it one of the most scenic sites in BC. Ts'yl-os (Sigh-loos) Park, a wilderness park area of 233,240 hectares (576,100 acres), encompasses Chilko Lake and part of the Coast Mountains. Chilko Lake is approximately 160 km (100 mi.) southwest of Williams Lake and can be reached off Highway 20 from two different locations. One access is from Hanceville and the other from Tatla Lake.
Chilko Lake is a glacier fed 80 km.(50 mi.) long lake. It is narrow, very cold and known as a great fishing lake. The lake yields Dolly Varden, rainbow and lake trout, while chinook and sockeye salmon are found in the Chilko River. Chilko is an important spawning lake for sockeye, pink and chinook salmon. Boating on Chilko Lake means always being careful as high winds and rough waters can happen quickly and anytime. The best time to enjoy boating and water sports is early in the morning or late in the evening.
Explore the area on horseback, check out the many hiking trails that lead to alpine meadows, or go aerial sightseeing. Take your camera, wildlife is abundant in the park, you might see deer, moose, grizzly bears, mountain goats and sheep. Bird watching is excellent in this area. Many bird species call this home, including the Peregrine falcon and Vaux's swift.
This wilderness park offers twenty undeveloped camp sites in two different campgrounds. Several resorts with first class accommodations, meals, cabins, RV and tent sites are found on Chilko Lake. For a wilderness getaway, which is hard to beat, make your way into Ts'il-os Wilderness Park and Chilko Lake.
Cariboo Chilcotin Jetboat Adventures - Take an exhilerating jetboat tour on the Fraser, Chilcotin & Chilko Rivers. Enjoy a "first class outdoor wilderness adventure." Experience pristine wilderness, wildlife, native culture, gold rush history, hiking with your Chilcotin native guide. Guides are professionally trained and certified. Our goal is to provide extreme safety measures with exceptional customer service.