Ocean Kayaking and Canoeing Nootka Island and Sound
Article courtesy of Brian Gunn
Strathcona Park Lodge
---
Paddle along Vancouver Island's rugged West Coast in fully equipped ocean touring kayaks. Nootka Sound with its winding fjords, unbelievable beaches, rolling mountains and lush ecosystems (the salal can grow ten feet tall) is most accessible from Gold River and a popular kayak destination to Strathcona Park Lodge and their clients.
Drive past Gold River on the gravel road towards Tahsis then along Tlupana Inlet to Cougar Creek where Strathcona keep a supply of kayaks during the summer months. After loading and launching your kayaks, you will paddle past Bligh Island to the Spanish Pilot Islands. Many overnight camp spots are available in this area, however it is wise to bring fresh water, as it is not always available. You may visit historic Friendly Cove, where Captain Cook first landed in 1778, to become the first European to land on the West Coast of North America.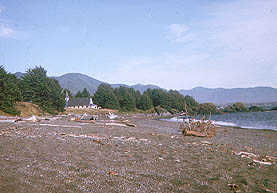 Church at Friendly Cove. Photo courtesy of Ann Fiddick
Stronger paddlers may choose to circumnavigate Nootka Island from the north end as well as explore the Nuchalitz Inlet and its many islands where rafts of sea otters are not uncommon. Please note that the ocean side of this trip can be very dangerous for all but the very fit and experienced paddlers because of the difficulty in making safe shore landings in big seas and sometimes having to paddle considerably further than planned to safely come ashore. While kayaking along the West Coast of Nootka Island you will want to come ashore at some of the many unbelievable beaches. Not to be missed is Crawfish Falls where Calvin Creek enters the Pacific Ocean. Here you can alternate your bathing under the freshwater of the falls with a dip in the pounding surf. You should also spend time at Bajo Point and marvel at the large size and great variety of inter-tidal life. Continuing your journey toward Yuquot (Friendly Cove), a 4300 year old village, you'll meet the descendants of Chief Maquinna and hear tales of trading sea otter pelts with European and Spanish American traders in the late 18th century. Visit Yuquot's Spanish church and see First Nations artifacts as well as evidence of European history. The adjacent lighthouse is one of the few remaining manned lighthouses and is one of the most stunning on BC coast. Keepers are very receptive and hospitable people. Walk the beautiful polished pebble beach; swim at a warm inland lake and chat with the native peoples about their plans to restore the village to its former grandeur. If you have time rent one of their cabins along the lake or overlooking the open Pacific Ocean. To return, paddle to the north from Friendly Cove up Nootka Sound and turn right into Eliza Passage, then left to the launch site in Tlupana Inlet.
---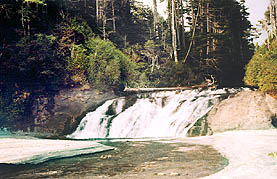 Crawfish Falls Photo courtesy of Eric Scott
Another choice is to paddle the eastern side of Bligh Island, overnight at a campsite on one of the Spanish Pilot Islands' then to cross Nootka Sound to Burdwood Beach. Burdwood can receive significant Pacific Ocean swell from the Northwest, so care is needed when going ashore. Set up camp and then explore the white sandy beaches at Burdwood. Weather permitting, you can paddle south to Escalante Beach, an even more stunning white sandy beach. Escalante is about three kilometers long and has many great camping spots. Some parts of the beach are open to the Pacific surf while other places are sheltered by islands just off shore. The Escalante River has many freshwater pools that are warm by Pacific Ocean standards and great for swimming. Expect a natural high watching the sun sinking over the rim of the Pacific only to set with a tremendous flash of color.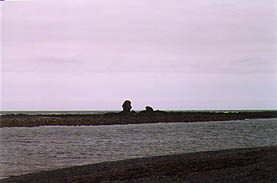 Bajo Point Photo courtesy of Eric Scott
A great variety of wildlife might be viewed on this trip. There are wolves, cougar, sea otters, seals, sea lions and an abundance of bald eagles and ravens that frequent the isolated shore. Make sure you place your food out of the reach of animals and secure from birds.
An alternative to driving to Tlupana Inlet is to take your kayaks or canoes onboard the coastal steamer Uchuck and get dropped off and picked up along its route. This allows you to focus on the areas that interest you.