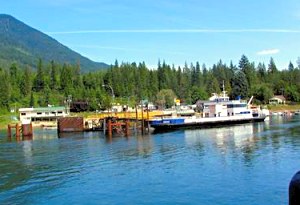 The town of Balfour was originally a steamboat terminus for the mining activities up and down Kootenay Lake. Presently Balfour is a resort community with accommodation, camping, marinas, and a full range of fishing services.
Much more than a couple of fun shops and restaurants at the ferry landing, the "greater metropolitan Balfour area" has more than 60 businesses and 1,200 residents.
By the way, it's not "Bal Fore," but "BAL fer." Just humour us.
Balfour's sparkling jewel is, of course, the world-class, Les Furber-designed Balfour Golf Course. Don't be fooled by the unpaved parking lot or modest clubhouse. Balfour's passionate golfers built the whole thing just a few years ago, and, having their priorities straight, they started with the course itself, which is arguably the best in the area (really). Then they built the clubhouse, and we mean they wielded the hammers. The beer is cold and the deck view is spectacular. They'll get around to paving the parking lot.
The toughest part about the Balfour Golf Course is trying to keep your eyes on the golf ball instead of the scenery -- Treacherously breathtaking. Anyway, bring your A game – you'll love the course, and it'll demand your best.
Accommodation/Adventure Providers
| | |
| --- | --- |
| | See The Rockies: Travel Guide to the Canadian Rockies. Map driving routes, explore Canada's Rocky Mountain National Parks, including Banff and jasper. Book lodging at hotels, resorts, guest ranches, and lodges. Plan sightseeing tours, outdoor adventures and more! more |
If you would like to have your business listed, please
Click Here.
Elevation: 1736 ft or 530 meters
Climate: Four distinct seasons characterize Balfour's climate.
Average minimum and maximum temperatures vary from -5C to 5C (12F to 41F) in winter to 15C to 27C (59F to 80F) in summer.
Rainfall averages around 25 mm (.98 in) per month March through October. Snowfall occurs November through March, with December and January averaging 70 cm (27.5 in) each.
Average Mean Temperatures: Winter: Lows -4.9 c (23F) Highs 0.6 c (33F)
Summer: Lows 11.1 c (51F) Highs 26.6 c (79F)
Population: approx. 1200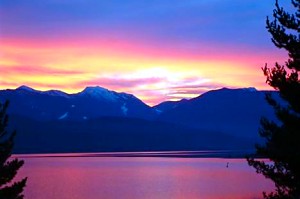 Main Industries: tourism
Access: Balfour can be reached along Highway 3A east of Nelson and south of Kaslo. Travelling south from Kaslo on Highway 31 also arrives at Balfour. The ferry from Kootenay Bay has a crossing time of 35 minutes. Check the Ferry Schedule
Services: Balfour district offers over 60 businesses including a well-stocked grocery store, bakery, service and gas station, restaurants, a couple of pubs, gifts shops, and more. Balfour has a fire hall and medical clinic close by. There is a hospital in Nelson as well as ambulance service.
Recreation Facilities & Activities: camping, fishing, golfing, hot springs, swimming, boating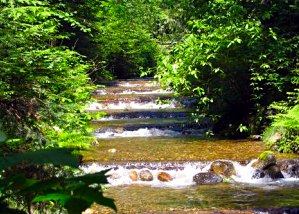 Local Attractions: Redfish Creek Spawning Channel, new Balfour Golf Course, Ainsworth Hot Springs, Annual Fishing Derby

Things to Do:
Get some duck food at Lang's, and wander down to the beach. Watch the ferry and feed the ducks.

Launch your boat at Balfour wharf.

Go for lunch and shopping at the Balfour Ferry Landing.

Play nine or eighteen at the golf course.

Hit a bucket of balls at the driving range.

Try to conquer the Eagleview putting course.
Take a bike ride over to Procter via the cable ferry.
Rent a couple of kayaks.

Rent a boat.

Take a fishing or sailing charter.

Drive up to Ainsworth – check out the historic cemetery and Fletcher's Store Museum, and then go soak in the hot springs.

Go cross-country skiing at the golf course.

Go back-country and heli-skiing.

Hike to or drive (with a tough vehicle) to Kokanee Glacier.

Take a helicopter ride over Kokanee Glacier!

Wander through Cody Caves.

Go bird watching.

Visit Kaslo and the beautifully restored Moyie paddlewheeler.
Drive the Sandon Circle tour and Idaho Peak Lookout - A must! (August is best for viewing wildflowers.)
Tour the off-road biking trails at Kokanee Glacier Road. (The Regional Forestry office at 3 Mile will provide maps of all local marine parks and trails.)
Go for the longest free ferry ride in the world.
Go see the creative East Shore artisans (weaver, broom maker, glass blower, blacksmith) in Crawford Bay, and go farther down the lake to see the Glass House.
Wander through the Creston Wildlife Wetlands Bird Sanctuary.
Use the Balfour soccer field for playing softball, throwing a frisbee, and kicking a soccer ball, or book it for family parties or team tournaments.

Play tennis.

Go for a walk around the golf course and gravel pit trails.
Drive to Castlegar and see the demonstration Doukhobour farm, museum, and fantastic gift shop.
Just sit and watch the waves on the lake. Oh, there's an eagle!
Accommodations: Campgrounds, RV parks, motel and bed & breakfast as all available.
We extend our thanks to the Balfour Chamber of Commerce for information and photos on their community.
For Information:
Balfour and District Chamber of Commerce
P.O. Box 2, Balfour, BC, V0G 1C0
e-mail: info@balfourcanada.com
Web: www.balfourcanada.com