Boating the Large Lakes of BC's
Okanagan Similkameen


---
Okanagan Lake is home to British Columbia's most infamous and elusive water creature, Ogopogo, which supposedly lives on the bottom on the lake. Ogopogo dates back to the First Nations people arriving in this area. This snake like creature has been around for hundreds of years, and the sightings still continue. Ogopogo has become part of BC folklore and is a protected species under the provincial wildlife act.
Okanagan Travel Information
Okanagan Points of Interest
---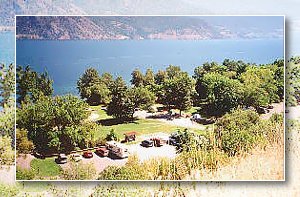 Okanagan Lake Park
---
Okanagan Lake is another BC fiord lake and the largest body of water in the Okanagan Similkameen region. It is very popular with locals and visitors alike for activities such as boating, water skiing, swimming, and fishing. The summer weather is sunny, dry and hot The beautiful sandy beaches are inviting. The combination of the lake, beaches, weather and recreational activities makes the Okanagan Similkameen a perfect vacation spot.
Surrounded by semi arid hills and plateaus, Okanagan Lake is 169 km (104 mi.) long and in places it reaches a depth of more than 300 metres (990 ft.). Moorage is not a problem because Okanagan Lake has many bays, coves and marinas. When not enjoying the warm waters go hiking, biking, horseback riding, play tennis or hit the golf links. Take a wine tour, visit historic sites, museums and art galleries.
At one time, the only way to get from the west side of the lake to the east side, was by boat or ferry. As the popularity of this area grow, bridging this waterway, between Westbank and Kelowna was necessary. In 1958, the floating bridge that crosses Okanagan Lake was opened. This was the first floating bridge built in North America. It truly was an engineering feat and is still a tourist attraction.
The cities of Kelowna and Penticton are both situated on the shores of Okanagan Lake, as are the smaller centres of Summerland, Peachland, Naramata and Westbank. Tourist accommodations and amenities in this region are plentiful and excellent. This includes hotels, motels, RV camping and tenting sites. There are a number of provincial parks and many privately owned campgrounds on the shores of Okanagan Lake. Rainbow and lake trout, and kokanee are all found in Okanagan Lake, choose the right lure and reel them in. Enjoy sailing, houseboating, water skiing, swimming, fishing and beach combing in the Sunny Okanagan.
---