Introduction to Coastal B.C. Fisheries
-by D.C. Reid
---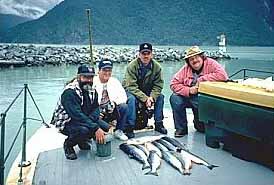 Coastal B.C., with its hundreds of miles of islands, bays, fjords and banks, represents one of the premier saltwater fishing destinations in the world. Serviced by marinas, guides, hotels and fly-in resorts, fishing opportunities can be found daily from Victoria, the capital city on the southern tip of Vancouver Island; to Bella Coola in mid-coastal waters; to misty Queen Charlotte Islands in the north.
Strong deep currents provide the key to a rich resource. Upwellings bring nutrient rich cold water to the surface, supporting rich growths of plankton, the sea's basic food source. Plankton - larval stages of animal and plant life - is released from mature animals in the billions. It forms a microscopic soup on which the rest of the food chain feasts. Next in line are baitfish: eulachons, herring, anchovy, needlefish. Schools of these finger-length fish follow the plankton. Their presence spells food to the larger gamefish, and success to the angler.
And in saltwater British Columbia, the successful angler has choices not found in other locales. Five species of salmon frequent the deep green waters: coho (also called silvers), chinook (king or springs), pink (humpies), sockeye and chum (dog salmon). Large chinook, or tyee, may reach a weight of 60 - 70 pounds on their summer spawning runs. Fall coho, also known as northerns, are the aerialists of the salmon world, reaching weights of more than 20 pounds.
Each of these species require variations in technique. The herbivorous chum and sockeye move through the summer waters vacuming up plankton. Red is the colour for sockeye, the bright orange-fleshed fish most prized by the restaurant industry. Omnivorous pink have a penchant for pink and on glassy-smooth summer days when the bite comes on, every fisher will catch a limit. True carnivores, coho and chinook, have sharp pin-like teeth and feed almost exclusively on baitfish most of the year. Herring strip and baitfish out produces most other offerings.
Angling opportunities are not limited to salmon. The smaller flatfish include sole, lemon sole and flounder. On the larger end, halibut dwarf their smaller cousins, the largest reaching over 400 pounds and requiring specialized fishing gear. Virtually every sheltered bay, every rockpile or kelp bed provides habitat for up to a dozen species of rock cod, as well as kelp greenling and sea bass. Lingcod to 70 pounds lie on rocks in tidal areas waiting for food to be swept by. In the offshore reefs, deeper waters up to 300 feet, schools of brightly-coloured, 30 pound red snapper may be located by fish-finding electronics on the bridges of most fishing vessels.
For all these species, bait is the key. Ocean fishing can be distinguished from freshwater fishing in that the fisher must remember finfish eat other animals that swim around them, unlike many freshwater species that snap insects falling on the water's surface from above. Saltwater baitfish may be found in areas of lower tidal flow. These smaller fish move with the current into tidelines, into backeddies behind islands and swim among the fronds of rising seaweed.
Ocean tides determine the location of baitfish and thus their predators. Along the B.C. coast, ocean tidal flow changes as many as four times a day depending on location and phase of the moon's cycle. These tide changes prove critical to fishing success. In most areas, for instance, salmon bite before a high tide and after a low tide, with slack water a close second for other species. Successful anglers can usually be found on the water before dawn, as the best bite of the day occurs with the sun's first rays. Later in the day, most areas also have a bite period about two hours before pitch dark.
Four techniques stand out among the others as tried and true methods for luring the big fish. Mooching live or frozen bait from a gently floating boat proves productive in slow moving water behind islands where salmon rest out of the main currents. Trolling lures - plugs, imitation squid, known as hootchies, simple spoons, and bait setups - through local waters probably takes more fish than any other method of fishing; the fisher actively moves to find the fish of his quest. Drift fishing or jigging, involves quickly raising a weighted lure and then letting it flutter down. During its flutter, the lure emits fish-enticing sparkles of light.
Where salmon dimple the surface on their fall spawning runs or chase frightened herring right out of the water, casting with a conventional spinning reel takes over as the method of choice. And, of course, many locations feature piers or rock bluffs where shore casters can fish from the safety of land. Beechy Head south of Victoria and Argonaut Wharf in Campbell River, for example, regularly give up chinook salmon to 50 pounds every summer.
Whatever the method, visitor and resident alike can be assured of catching something every time out. Over 400,000 licences are issued each year. A fisher can retain four salmon a day, two of which may be chinook, up to a posession limit of eight salmon. Two halibut a day may also be taken.
Bring along your lunch and binoculars, too. These rich northern waters abound in marine mammals. Closer to port, harbour seals and sealions dot the rocks. In deeper waters, porpoises, dolphins and killer whales leap completely clear of the ocean in a behaviour known as breaching. Many species of the larger whales, including mink and grey whales, migrate along the B.C. coast annally in their long journey between Alaska and California. The species of birds are too numerous to list. Whether fisher or non-fisher, the natural sights along B.C.'s saltwater coast create a rewarding day for all.